Can you imagine experiencing a magical, sophisticated evening with all the aristocratic mysticism of the Carnival of Venice but on the most exotic island in the Honduran Caribbean? You'll find all this and more at the New Year's Eve bash at Roatán's Paradise Beach Hotel.
This December 31, beginning at 7:00 p.m., the legendary, vibrant-colored masks will take over Roatán in a glorious celebration. Get ready for entertaining music spectaculars, live dancing, an open bar, and a delicious dinner on the beach for visitors who wish to taste our authentic Caribbean and international fare.
If you're still wondering where to spend the last night of 2022 and celebrate the beginning of 2023, look no further. Roatán and its "Venetian Circus" is your best option; it's a unique experience designed to create unforgettable moments and lots of fun!
Why a Venetian-style party?
Paradise Beach Hotel's New Year's Eve party was inspired by the "Carnival of Venice" tradition that began in the year 1296. Over the centuries, this festival, with its decorative masks and dazzling costumes, has become infamous around the world. In fact, the use of masks originated to protect the wearers' identity, giving them more freedom to party and act in daring ways without fear of embarrassment or repercussion.
This gala New Year's event is the perfect excuse to wear all your favorite shiny, metallic silver and gold-toned clothing on the beach; a rebellious and daring contrast you won't find anywhere else.
A fantastic complement to your Roatán vacation experience!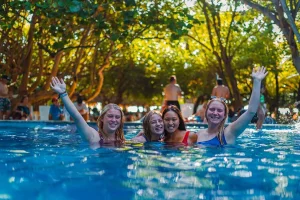 If you're a guest at Paradise Beach Hotel, you're invited to complement your vacation experience in Roatán with this fun and festive party.
And during the day, you can swim in either our tropical garden or terrace swimming pool, and eat in one of our two restaurants. Enjoy buffet breakfasts, themed and traditional dinners, fresh seafood, delicious pizzas, Caribbean food with local ingredients, and BBQ on Sundays.
Looking for more to do? How about exploring the sea and learning to scuba dive or snorkel at our Dive Center or burning some calories at a workout session in our fully-equipped gym? Or perhaps you prefer something more relaxing; nothing beats a professional massage in your room or reading your favorite book under a palm tree while sipping a delicious piña colada.
On the night of the long-awaited December 31st, you can be part of the best New Year's Eve party of your life. Buy your tickets in advance for $100 for adults and $65 for children (+ISV), with a final cost of $130 for adults and $85 for children (+ISV).
Contact us immediately for more information or to make your reservations now. An incredible Venetian Carnival party in Roatán awaits you this New Year's Eve!