The number of global digital nomads grew significantly during the Covid-19 public health crisis and continues going strong. Professionals of all ages work in sandals and shorts while sipping on a mojito and enjoying the sea breeze.
In the United States alone, the number of people who consider themselves digital nomads is over 10.2 million. Of those, 20% became digital nomads due to lifestyle changes specifically brought on by the pandemic. And according to Passport Photo statistics, an estimated 24 million Americans will become digital nomads in the next 2-3 years.
The Best Hotel for Digital Nomads in Roatan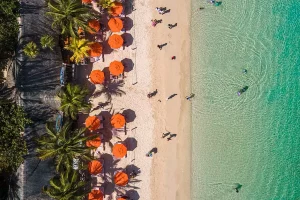 Digital nomads tend to be entrepreneurs, often working at stable jobs with one specific company or freelancing for several companies. 44% are millennials: highly productive people of working age enjoying a lesser burden of family responsibility compared to their older counterparts.
Additionally, 71% of digital nomads are full-time workers holding professional positions that require specialized training, education, and/or "real-life" experience. Most have at least a bachelor's degree, and many have completed a master's degree. Many of these professionals work in information technology, creative services, education, consulting and coaching, marketing, sales, and finance issues. In West Bay, Honduras, we have excellent lodging options with everything a digital nomad needs to work professionally anywhere in the world. What's more inspiring than taking a break from work on a white sandy beach with the relaxing sound of the waves breaking on the shore?
Paradise Beach Hotel guarantees excellent Internet access, a dependable infrastructure, and the 
opportunity to experience the exotic and natural life on a Caribbean island paradise.
Extended-Stay Services for Digital Nomads – Live the dream!
At Paradise Beach Hotel, we fully understand the needs and requirements of digital nomads, whether they're traveling alone or with their families. We offer various room configurations for singles, couples, work colleagues, and families with children, including suites and villas.
Our services include:
Comfortable rooms with flat-screen TVs, air-conditioning and fans, refrigerators, private bathrooms with showers, towels, and safes for your valuables.
Free high-speed WiFi connection
Two restaurants with international cuisine for all tastes and diets
Fully equipped gym with beautiful views
Professional and relaxing massages
Tropical garden swimming pool, surrounded by nature.
Terrace swimming pool on the fifth floor
Surf lessons
Breakfast included
Evening musical entertainment
If you're a digital nomad seeking rest and relaxation while quietly working, come and enjoy the iconic beauty of the Honduran Caribbean. Be sure to get in touch with us immediately; your dream extended-stay getaway awaits you on Roatán Island!